Photo Pendants - Lucky Charms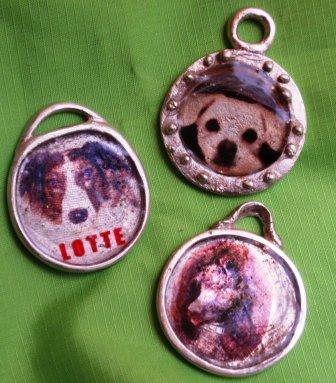 $ 60.00 USD
Pendants approx. 1" in diameter, made with 10 g pure silver. You decide on the style you like (see picture), e-mail me a picture of your dog (or cat, or child, or ...) and I will do the rest. You may also send me hair, teeth or other small items that you would like included in the pendant. Once set in the resin they are safe, but can not be removed again. Pendants comes with small key chains (see "Mischelaneous" in the galery for more details).
Each one is unique and custom made, especially for you.
Paw Print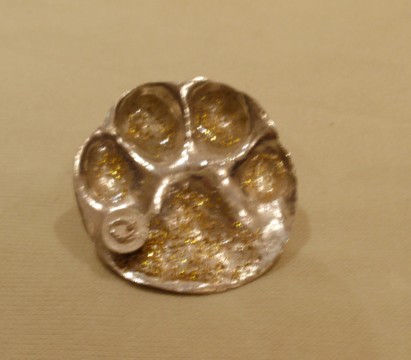 $ 50.00 USD
Something to remember your dog by for ever.
This item can be made as a pin or a pendant, or even dual purpose.
I will tell you how to take a paw inprint of your dog's paw, you send me the mold and decide on the finish you would like (with gold glitter or without) and I will do the rest.
Since dogs come in many different sizes, paw prints start at US 50,00 for small dogs but go up for medium and Large dogs.